BURIAL RITES HERE
FOR D.E. SULLIVAN
D. E. Sullivan, age 71, passed away at his home in Vermillion early Sunday morning. Though he had been in poor health for some time, death came very unexpectedly.
Mr. Sullivan, who spent his boyhood at Montrose, has lived in Vermillion for many years where he was depot agent for Milwaukee Railroad until his retirement a few years ago. He was mayor at Vermillion for eight years and councilman for four year.
Surviving are his widow, the former Rose Berke; one son, bill, of Bronson, Mich.; three daughters, Ethel and Mrs. Ed Naughtor, of Sioux Falls, and Mrs. Arthur Feuer, of Chicago; two brothers, Eugene, of Montrose and Will of Sioux Falls; five sisters, Mrs. Rose Healy, Montrose, Mrs. Ed Healy and Mrs. Margaret Tennyson, Sioux Falls; Mrs. William Anderson, Denver, Colo., and Mrs. Harry Kellogg, Brookings. There are twelve grandchildren.
Funeral services were held at St. Agnes Catholic Church at Vermillion Wednesday morning, after which the remains were brought to Montrose and the Rosary was recited at the A. W. Odell funeral home. Burial was at St. St. Patrick's Cemetery.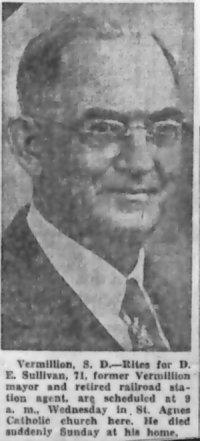 Vermillion, S. D. Rites for D. E. Sullivan, 71, former Vermillion mayor and retired railroad station agent, are scheduled at 9:00 am Wednesday in St. Agnes Catholic church here. He died suddenly Sunday at home.